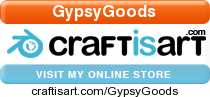 I just signed up for a new selling site... I have several other shops out there. This one is really new. With all the uproar over Handmade vs Factory, I thought I should put more eggs in my basket. I hope this venue grows. It is quiet there right now (shops on vacation). It is a good time to work on getting stocked for the fall and holidays. I have spotted a few other sellers from other sites there.
I signed up and was so surprised how super easy it is to use!
It has
3 levels of membership:
basic (free), pay as you go and premium (6.99 a month).
*Easy listing
*Quick and easy item importer (Etsy)
*Shop Backgrounds (like a blog)
*Banner 700x whatever size you want high
*Shop Blog
(basically the best of the other sites all put together...just a newbie in the marketplace).
If you are wanting (or need) to give another place a try............I would appreciate if you would use my referral link below:
craftisart.com/GypsyGoods
Or if you would prefer to use a code....
QTLV2 92H67 JNAIO 1876R 9Y24C
Thank you so much, wishing you lots and lots of great sales with this new site (Stop by my shop there and leave me a comment on the bottom of the page),
Kathy